Embracing Change - CEWIL Canada National Conference 2018
Past event.
29 July 2018, 4:00 PM – 1 August 2018, 12:30 PM.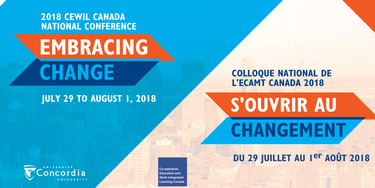 CEWIL Canada
Co-operative Education and
Work-Integrated Learning
Conference registration is now closed
Also, here's what's happening in Montreal

See details here about how to get involved as a Sponsor!

---
About
Embracing Change - CEWIL Canada National Conference 2018
Event Starts:
29 July 2018, 4:00 PM
Event Ends:
1 August 2018, 12:30 PM
Event Location:
Concordia, John Molson Building (MB)
1450 Guy Street-MB 9th Floor
Montréal , Québec H3H 1J5
United States
Event Location:
Concordia -Grey Nuns Residence (GN)
1190 rue Guy street
Montreal , QC H3H 2L4
United States
Event Location:
Concordia, Engineering, Computer Science and Visual Arts Integrated Complex Building (EV)
1515, rue Sainte-Catherine Ouest
Montréal , Québec H3G 2W1
Canada
Event Location:
Concordia, Guy De-Maisonneuve Building (GM)
1550 de Maisonneuve Blvd. Ouest
Montréal , Québec H3G 2W1
Canada
Event Location:
Concordia University : Henry F. Hall Building (H)
1455 De Maisonneuve Blvd. W.
Montreal , Quebec H3G 1M8
United States
Event Location:
Place Royale - Meet up for Walking Tours
Place Royale, Rue de la Capitale
Montréal , QC
United States
Event Location:
Pub St-Paul
124 Rue Saint Paul Est
Montréal , QC H2Y 1G6
Canada
Event Location:
Bell Centre
1909, avenue des Canadiens-de-Montréal
Montréal , Québec H3C 5L2
United States
Event Location:
1909 Taverne Moderne
1280 Avenue des Canadiens-de-Montréal
Montreal , QC H3B 5G0
Canada
Event Location:
Concordia - Pavillion J.W. McConnell Building (LB)
1400 De Maisonneuve Blvd Ouest
Montréal , Québec H3G 2W1
United States
Event Location:
TBD
Canada